The Skin Genie  is an independently run Specialist Skin Clinic in Carlisle, Cumbria.
Our Mission is to help our clients feel happy and confident in their skin by providing clinical skin treatments, advanced prescriptive skincare and education to help you better understand your skin.
Every experience at Skin Genie is bespoke because every skin is unique. We believe that skin health and wellness starts with thorough consultation and we prefer to adopt a non-aggressive approach to skincare.  Click HERE to explore our services, HERE to shop Skincare.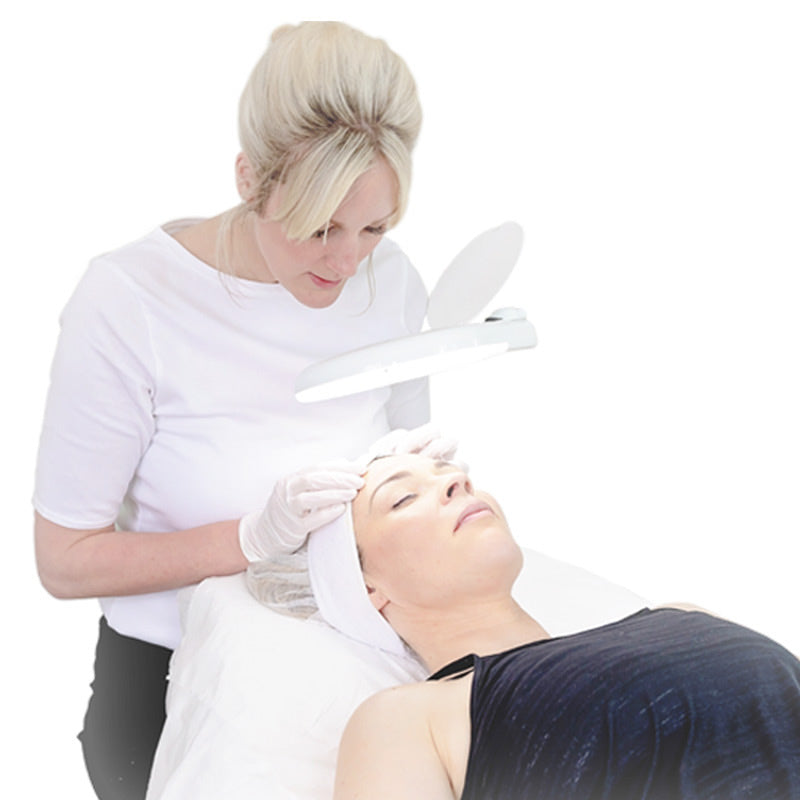 Meet The Team
Jenna AKA The Skin Genie.
Facialist and Skin Specialist
Having been in the industry for over 20 years and specialising in skin for the latter 10, Jenna knows a thing or two about how to achieve healthy skin. She gained a level 4 in advanced aesthetic practice after studying at the prestigious Sally Durrant School in Birmingham and is an Ex Educator for the Dermal Institute. Her specialist areas are Acne, Pigmentation, Rosacea, Ageing and Lesion Removal. (Skin tags and seborrheic warts are her favourite!) She is renowned for giving an insanely great facial and bringing an element of Zen to all aspects of life.
Other than Skincare and her family, she loves 3 things. Travel, Good Music and Chocolate (ideally combined)
Sarah – Clinic Coordinator
Sarah is a mum of 3, Crossfit lover,  and a superhuman organiser. She has a strong background in the health and beauty sector heading up teams with some of the most prestigious skin and beauty brands in the UK.
"From a young age I have always had an interest in skincare, the most valuable lesson my mum taught me was, 'that good skincare was an investment.'  It was certainly that belief that led me into the industry. I really enjoy learning about the latest products and treatments. 
Siobhan Findlay – Facialist
Over Siobhan's career she has travelled the world extensively and has worked on cruise ships, in luxury's spas and leading skin clinics in Scotland and New Zealand, winning title of advanced skin therapist of the year for her clinic. Her views as a skin therapist are well aligned with Skin Genie values and she is inquisitive and understanding by nature which makes her great at helping you get to the bottom of your skin problems.
Claire Latta – Facialist 
A Facial from Claire is like no other, her hands on massage technique is incredible and she has a natural ability to make anyone feel comfortable and at ease in her presence. Claire has a special interest in anti-ageing treatments such as Radio frequency skin tightening and Microcurrent lifting.
Liv Taylor – Laser & Skin Technician. 
Liv is a fan of high tech skin devices  and loves all electrical treatments. She is the go-to girl for laser hair removal and light therapies. A self confessed skincare addict and an absolute pleasure to have treatments with.
Dr Dorota – Medical Aesthetics.
Dorota qualified from University of Liverpool Medical School, where she also completed intercalated MPhil degree in an internationally acknowledged research team. She completed her Foundation Training as NHS Doctor in Merseyside area and secured one of the most sought after Core Surgical Training posts during which she trained in renowned Ear, Nose and Throat, Maxillofacial and Plastic Surgery departments. She then went on to pursuing her career in Ear, Nose and Throat Surgery with special interest in Facial Plastics Surgery and ranked 12th in the country in the National Selection Process. She is a member of the Royal College of Surgeons and her work has been published multiple times in international journals. She has also completed her aesthetic training with a world expert Dr Lee Walker in Liverpool. She is an advanced aesthetics trainer for Acquisition Aesthetics, an award winning Independent Aesthetic training provider in the UK.
ETHICAL AESTHETICS was created from a rising need of delivering aesthetic treatments responsibly by appropriately qualified medical professionals. I think aesthetic medicine nowadays gives us great opportunities to enhance the way we look and feel. However, having worked in Plastic Surgery and Maxillofacial Surgery Departments, I have witnessed multiple complications of badly performed aesthetic procedures. I wanted to create a place where such treatments are delivered by appropriately qualified medical professionals, who have extensive knowledge of facial anatomy. I support the patient throughout the process, starting with creating a treatment plan together and finishing with post-procedure maintenance plan. At ethical aesthetics you are not a client but a patient because your safety is our priority. The way we deliver our treatments is evidence based and in accordance with the newest research.
Amy Wilson – Massage Therapist
Amy has been in the wellness and spa industry for over 15 years. She gained her level 2 & 3 in Beauty and Massage therapy at Kendal College and thereafter completed a variety of courses focusing on different massage techniques. She has a special interest in pregnancy and oncology massage. It is well known Amy has a passion for all things wellness, she is a perfectionist and offers massage treatments that will leave you feeling relaxed, rejuvenated and ready for the day.
Kirsty Hodgson – Acupuncturist
About Kirsty
"I graduated from Salford University with a 1st class BSc (hons) degree in complementary medicine practice in 2001 and have worked at Lochthorn Medical Centre since then.
My appreciation of acupuncture lies in its ability to treat the person and not just the problem.
I find it a rewarding and fulfilling career and enjoy helping people to overcome their difficulties and regain better health. Much of my work involves helping people to control pain following a wide variety of conditions.
For the past ten years I have used acupuncture for the care of patients with advanced progressive illnesses such as Cancer and OCPD. I regularly update my training for acupuncture in Palliative care.
I have special interests in the use of acupuncture to enhance fertility and IVF treatment and have undertaken postgraduate training with Zita West, a pioneer in this field."
Kirsty is a registered member of the British Acupuncture Council.